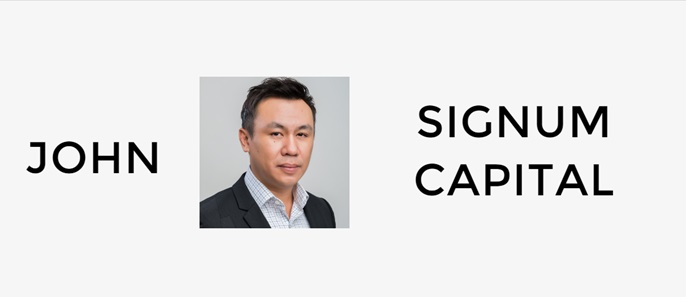 GBHB(Gobal Blockchain Headquarters Base)创办于2018年,致力于打造全球区块链创业服务第一平台,为全球区块链创业者解决"全球融资""全球品牌用户""全球交易所"等创业发展全案落地,同时为实体经济解决"+区块链"技术应用落地解决方案服务,共建全球区块链创业者互助社群。
人物介绍
John is the founder of Signum Capital, an investment vehicle specialized in Blockchain investments with a realized IRR of 122%. He holds advisor roles in Kyber.Network and Republic Protocol, Sentinel Protocol, Sparrow Exchange, Omnilytics and is a founding member of the Aelf Innovation Alliance.
John's first foray into business was at the age of 11, when he sold used text books and comic books outside of schools' bus stops. That spirted him off to a journey of learning sales from an early age of 13 and he has never stopped working till this day.
John started his education in Mechatronics and later switched to a degree in business, with his first job as a banker with Standard Chartered Bank. After leaving the bank, John started various companies at the age of 23. The most recent venture was the creation of Makan Bus, Singapore's first hop on and off food tour.
John's passion in venturing into businesses is fueled by successfully growing a business and its staff.
公司介绍
Signum Capital was founded in 2017, It is a Singapore based investment holding focused on participating in global digital assets, fintech and blockchain companies.Signum Capital was born when a experienced group of advisors and investors decided to join forces and combine their investment experience, expertise and skills.
With more than 5 years experience investing in cryptocurrency, fintech and blockchain projects and successfully advising blockchain projects across Asia, Signum Capital has a proven track record.
The Signum Capital total AUM is in the region of 50m and above.
The amount range is 100k -2m usd in each project .
The Signum Capital team has made over 45 investments in successful projects such as Zilliqa, TomoChain,OmiseGo, Kyber.Network, Aelf and showed top tier returns after the first year of launch.
The Digital assets and cryptocurrency industry has changed rapidly. Signum's balanced investment approach has opened up new opportunities to re-invest in blockchain and fintech companies across Asia (inside and outside the existing portfolio).
https://www.cryptoinvestor.asia/the-top-10-chinese-backed-crypto-hedge-funds/
01When did you start to pay attention to blockchain and invest?
I was investing privately in several businesses, both brick-and-mortar and tech startups. I have started up several businesses over the past 18 years and served a short stint with a VC firm before starting Signum Capital.
Initially, my partners and I were planning to start a growth fund, looking at series A, B, and C rounds. While we were doing so, a mutual friend of ours asked us if we were interested in "crypto." At that point, we thought, bitcoin? As we dived in, we decided to switch to Signum Capital, investing in blockchain-enabled firms.
One of the major pull factors was the technology behind blockchain and how it can help a number of companies. We felt this was the next big thing and decided to be a part of this space.
02What is your view around the development trend of blockchain?
Previously, institutional investors were hesitant to enter cryptocurrencies because of the high volatility, lack of regulations and the technical barriers to entry. Many investors who control other peoples assets are also not allowed to invest in outside things such as stocks.
One characteristic that many institutional investors look for in Bitcoin and other cryptocurrencies is its use as a safe haven during a turbulent market. With global trade wars and Brexit looming in the horizon, Bitcoin and cryptocurrencies value as an investment is becoming more sought after.
It is just not financial institutions that are entering cryptocurrencies, government institution are also gearing up. However, the changes there is mostly revolving around implementation and use of blockchain technologies and the laws surrounding them.
One example is that the Russian government is drafting their laws surrounding cryptocurrencies which also includes a decision to not tax cryptocurrencies. Another example is China who has allowed blockchain transactions to be used as proof in a court of law.
In addition to government institutions, universities like Harvard, Yale and Stanford have all invested in cryptocurrency funds. An undisclosed source has revealed that endowments of the respective universities have invested tens of millions of USD into at least one crypto fund.
Source: Toshi Times
03What is your insights about market ? And why?
The blockchain ecosystem is still at its infancy, as the channels are very fragmented. A project hoping to showcase itself globally will have to try very hard, and a project that has an incredible team will also face expansion hurdles.
If a project were to have completed an ICO, they would need additional avenues of growth and expansion, and I think these aren't really in place yet. Most "retail investors" want them to list in exchanges ASAP for obvious reasons, but there is more to it than just ICO-and-list.
Funds (both crypto and non-crypto) will form alliances and partnerships; exchanges are partnering with funds. We see more partnerships growing in this space. I think this is good in the long run, as it helps projects to connect easily with the right players and funds to have access to more projects globally.
There have been some government initiatives, and I think these all play a part in creating a valuable blockchain ecosystem.
04What are the key points that impact your investment decision?
The Founding Team must have the experience with the technology/application they're building.
The technology has a proven application or Signum Capital has identified a need for it. The company or project focuses on the Asian market or has an Asian presence.
05What are your suggestions for the development of the project at this stage?
I believe that sticking to the mile stones set and following through with building the business is important. If you have advisors onboard, make use of their network to help grow your business. Have proper treasury management.
06I will participate in "2019 Global Leader Summit Dialogue", Please join us
GBHB(中国)携手Gametoc(韩媒)、韩国M&A中心、金色财经(中媒)、布洛克科技(中媒)、COININ(韩媒)、Blocktimes(台媒)、Beecast(东南亚媒)、ATF(东南亚媒)、星海社区(中国社群)、蚂蚁节点联盟(中国社群)共同打造"2019全球领袖巅峰对话",即将在5月7日拉开帷幕,主群国际大咖云集,仅限30位明星创始人(免费审核制)在线进圈跨国探讨热点内容。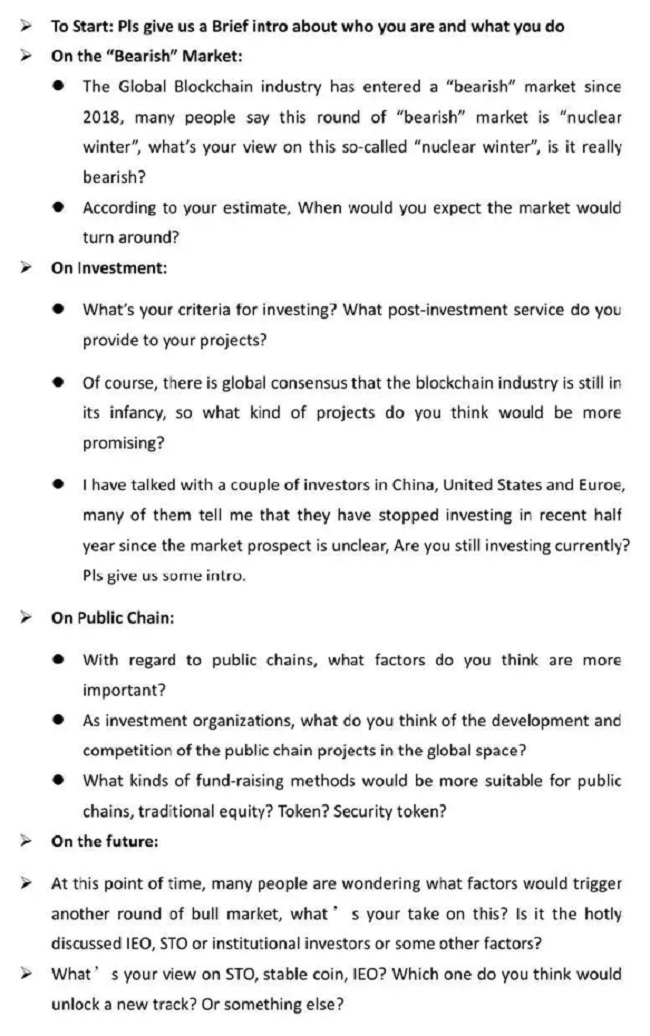 07We are looking for star projects global , Please pitch to us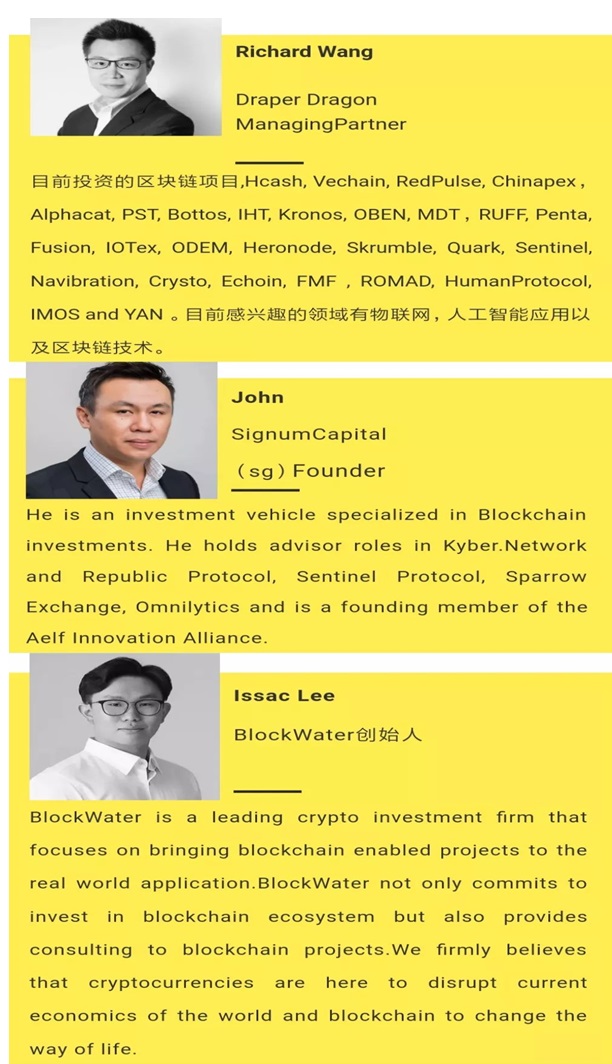 Recommend one book about blockchain :
Crypto Wizards by Founders of Digix – also because I wrote a chapter in it too.
Articles or interview links John have conducted
https://www.google.com/url?sa=t&rct=j&q=&esrc=s&source=web&cd=4&cad=rja&uact=8&ved=2ahUKEwiQ44ifpevhAhWBu54KHXgrAVcQFjADegQIAhAB&url=https%3A%2F%2Fwww.pressreader.com%2Fkorea-republic%2Fjoongang-ilbo%2F20181119%2F282162177253572&usg=AOvVaw3N_zzPs07U8HvLU0gVKkz3
JoonAng Libo (Koreas largest News Paper):
https://www.google.com/url?sa=t&rct=j&q=&esrc=s&source=web&cd=4&cad=rja&uact=8&ved=2ahUKEwiQ44ifpevhAhWBu54KHXgrAVcQFjADegQIAhAB&url=https%3A%2F%2Fwww.pressreader.com%2Fkorea-republic%2Fjoongang-ilbo%2F20181119%2F282162177253572&usg=AOvVaw3N_zzPs07U8HvLU0gVKkz3
Bloomberg:
https://www.bloomberg.com/news/articles/2017-03-05/rich-gen-y-asian-kids-pool-family-fortunes-to-build-venture-fund
Global banking and finance:
https://www.globalbankingandfinance.com/signum-capital-backs-real-estate-blockchain-platform-konkrete/
★정보보안 대표 미디어 데일리시큐(DAILYSECU)!★
저작권자 © 데일리시큐 무단전재 및 재배포 금지